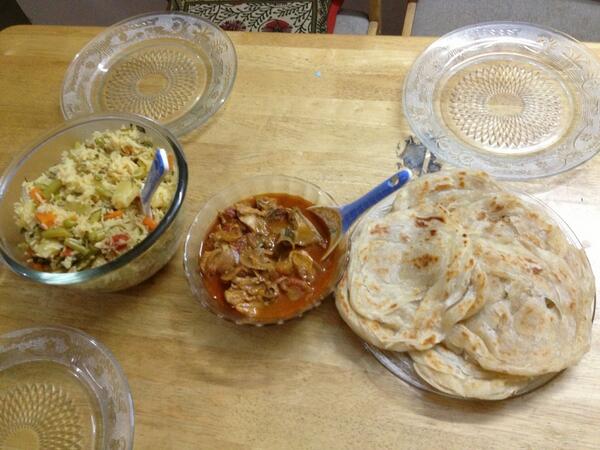 I looked up from my salt-less palak daal and roti as Rashid came up to my hotel room at Bangalore's Koramangla before we left for a meeting.
"How's the food?" Rashid asked.
We were meeting after years. Working together once again. We used the time at hand to catch up on what was happening in each other's lives before we set off. Though to be honest it didn't seem as if we were meeting after a long gap.
"Pretty tasteless" I said, "But then I am trying to eat home food these days and nothing fancy."
"Is it?" Rashid asked  and began to text something.
Then he looked up and said "I've told me wife that you will join us for dinner at home".
I happily took him up on his kind invitation and after work we headed to his house. I hadn't met his wife, Shabna, before. Nor had I earlier met his son Rehan who was watching Kung Fu Panda 2 when we entered and contorting into positions that we can't dream of in the yoga class with the ease of a four year old.
Shabna was making dinner and it smelled amazing.
"I know you are a blogger", she said "and that you love to eat. I have not cooked that much. I don't know if you will like this"
I have often faced this when I've been invited to people's homes for a meal. I had to assure her that the meals that we eat at home too are fairly simple, easy to put together and not elaborate at all. And, most importantly, that I am no big bad blogger wolf!
The dinner that followed was just what I needed.
Starring were freshly made Keralite porotas. First time that I was having the flaky whirled delights outside of a restaurant. The porotas that Shabna made were lighter, purer and more heart warming than any restaurant porota that I've had. The texture soft inside and crisp outside with a soothing hint of sweetness in it's taste.
Then there was a chicken curry to go with it. A very light curry. Just what I needed. Gossamer thin sauce with a mild hint of the taste of coconuts which made it a real treat.
To complete the meal was a simple pulao loaded with vegetables.
I looked up, smiled and said "Just love it"
"Ah you will blog about it", said Shabna as she smiled back.
Not the typical Onam Sadya I know but then if festivals are about joy, warmth and bringing people together then the meal I had at the Pattakals for Onam truly fit the bill.
We did have a couple of lovely Onam special payasams brought over by their neighbours. A traditional Onam feast is of course meant to be vegetarian.